Discover your strengths and competences
As a trainer, coach and prospective therapist I offer a wide range of services in the areas of personal development, leadership skills and team development.
After many years of experience interacting with different people and target groups both within and outside of companies, my work is focused on your well-being and your concerns - for your company, for your personal or professional growth targets and the route that needs to be taken.
---
For companies
Training sessions, workshops and coaching
A company needs motivated and committed employees. To ensure that they not only fulfill expectations as individuals or teams, but also develop personally and contribute as valuable participants, I offer tailored support for managers, employees and teams. Always at eye level, always interactive and always with a preference for experiential learning. For this purpose, I develop individual formats and sustainable processes to match your requirements, which can become part of your own learning culture. If there is a broader need, I work together with trusted, competent and experienced colleagues.
Designing Your Future
Designing-Your-Future offers the exciting approach of combining strengths orientation (Gallup CliftonStrengths®) and Design Thinking. By becoming aware of their own individual strengths and values, participants develop a strong inner compass. Combined with the method of Design Thinking, this results in perspectives and concrete steps in a process of designing a (professional) life which fits the individual´s core personality. By this it becomes a path to realizing happiness and success. The mindset of Design Thinking provides the tools to orientate oneself in transformation processes and to actively participate in shaping them.
Possible workshop themes:
Leadership Development
For self-confident, successful leaders
Team Development
For optimal cooperation, conflict resolution ability and performance
Strengths Workshop
For a strengths-oriented development (Gallup®)
Positive Intelligence
Establishing mental fitness to successfully manage the mechanisms of self-sabotage
Innovative Mindset
Design Thinking as a method of navigation in change processes
Individual Topics
I am happy to design your workshop according to your needs!
Designing Your Future I offer the Designing Your Future approach as part of a team and in different formats: individual coaching, workshops for groups or teams, in the context of change processes, as a contribution to a corporate culture oriented to strengths and values, or according to your needs. You can find out more at: www.designing-your-future.com
---
Coaching
Career or life coaching
My support is designed to enable you to shape your (professional) life according to your own compass and strengths in the way that is right for you. The goal is not for you to reinvent yourself, but rather to find yourself as the essence of who you are. Your well-being, your satisfaction and your (professional) success are the yardsticks of our process.
Gallup® CliftonStrengths Assessment
With this renowned tool you will gain better insights into your talents. You will discover what makes you unique and what you can do exceptionally well. From this, we develop clear ways and steps to help you make better use of your potential. From this point of view, new perspectives and options arise for your possibilities to shape your life.
Do not reinvent yourself – find yourself.
From there, everything is simply more fun!
Coaching as a gift?
For example, gift someone a Gallup® Strengths Assessment including a one hour individual debrief.
---
Psychotherapy
Psychotherapy according to the Heilpraktikergesetz
As a psychotherapist using the Bindungsenergetik approach, I focus on the innate emotions of my clients. If these are activated, self-regulation becomes effective and positive life organisation can take place.
Bindungsenergetik
Bindungsenergetik therapy is a modern, health-oriented therapy approach. The focus of the work is on achieving psychological well-being, satisfaction, clarity and self-confidence. These are the basic conditions for a person to feel healthy.
---
Kaj-Ariane Fischer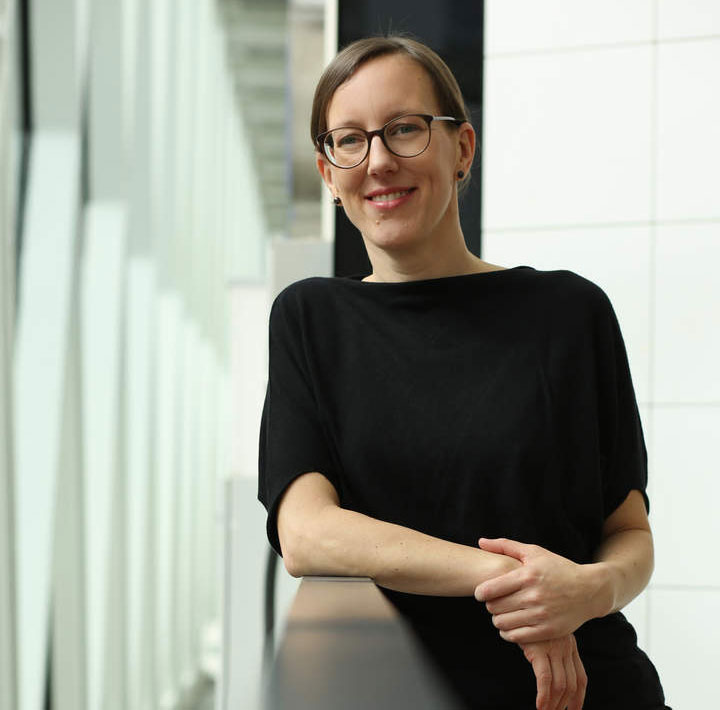 As a sociologist and through my many years of work in various, including global, roles in the HR department of the IKEA Group, I have gained a great deal of experience with managers, employees and teams at various levels and organizational structures. I am a qualified trainer. The approaches of my various qualifications are incorporated into my work as a coach: SML Coach for individuals and teams, professional Co-Active Coach and certified Gallup® CliftonStrengths Coach.

After a body-psychotherapy training in Functional Analysis (1999 - 2004), I am currently completing a training as a psychotherapist at the Center for Bindungsenergetik in Bremen, Germany.

Together with my partner and two children I live in Frankfurt am Main, Germany.

I look forward to using my expertise, experience and methodological knowledge for your benefit.
You will find depth, focus, openness and humor
and all my good will for your cause!
My top five Gallup® strengths: Connectedness | Strategic | Relator | Adaptability | Ideation
"I chose Kaj-Ariane Fischer as my coach to reflect on my role - based on my Gallup CliftonStrengths strengths profile - and to realign my professional future. It was particularly helpful that she explained my strengths to me in a very positive way so that it was easy for me to understand and follow. In addition, Kaj has a varied methodology, which she used with me individually and specifically. Through all of this, I gained more clarity and was able to positively influence my professional development. The positive effect of the coaching continues to accompany me."
N. Höhmann, HR Director, 2019
"I recommended Kaj-Ariane Fischer coach for executive coaching within the company.
Due to her strength-oriented approach and her wealth of experience in individual and group coaching, especially in a corporate context, Kaj-Ariane Fischer convinced me as a competent and trustworthy coach. She is characterized by her distinct analytical ability and her very structured, solution- and result-oriented approach. The professional cooperation was also successful because Kaj Fischer naturally included business concerns in her work.
I will continue to recommend Kaj to managing directors, HR managers and executives at any time."
A. Escher, HR Manager, 2020
"I sought out Kaj in a personal crisis situation. With her open, appreciative and reassuring way of engaging with people, she helped me overcome my feeling of being at the mercy of others and hopelessness. She quickly connected and then reflected with me on personal strengths and experiences in the context of problem solving. From this, I was again able to develop positive perspectives for my future. Furthermore, Kaj made a lasting contribution to my personal stability and further development through practical recommendations for my everyday life. I felt very comfortable and in good hands with her."
Anonymous, 2020
"I had the pleasure to do the individual Design Your Future coaching with Kaj, after doing a much appreciated Gallup Clifton Strengths workshop together with my team. It has been a fantastic journey where I learned things about myself and my colleagues that I think others can search for during a lifetime. I now have a set of tools to not only spot dreams, wishes and needs, but also to take actions to make things happen in a desired direction. I recommend anyone to work with Kaj, both professionally and privately. What makes her an extraordinary successful coach is her ability to highlight what is most important, to see things from a different perspective and to communicate it. Last but not least, her great sense of humor and friendly energy makes every session something to look forward to."
J. Zetterberg, Project Leader, März 2021
"Kaj, without you it would not have been such a rewarding journey! Thank you for your patience, thoughfulness, laughter and ability to highlight the right things!"
Anonymous, 2021
"In 2021, we worked on our team profile during a team process activity led by Kaj, using the CliftonStrengths Talent Assessment. It worked very well through Zoom. We learned a lot from each other as a team and I very consciously took some things from it into my daily work. I gave "space" to my strengths, so to speak. As an IT team, you tend not to be so open to these programs, but this activity changed my mind. Afterwards I continued directly with individual Designing Your Future-coaching with Kaj. With the reflections on work and life, always keeping the talents in mind, we worked out my individual compass. Not easy, but only through the self-work (homework), which I appreciated in particular, we have progressed step by step. A great thing! It is always important for me to take away something "measurable" and that is what I have achieved through the process. I can highly recommend this training and the cooperation with Kaj."
B. Montag, IKEA June 2021